Designations:

PSA, ABR, MRP, MBA
Tracy Vitali
Sales Associate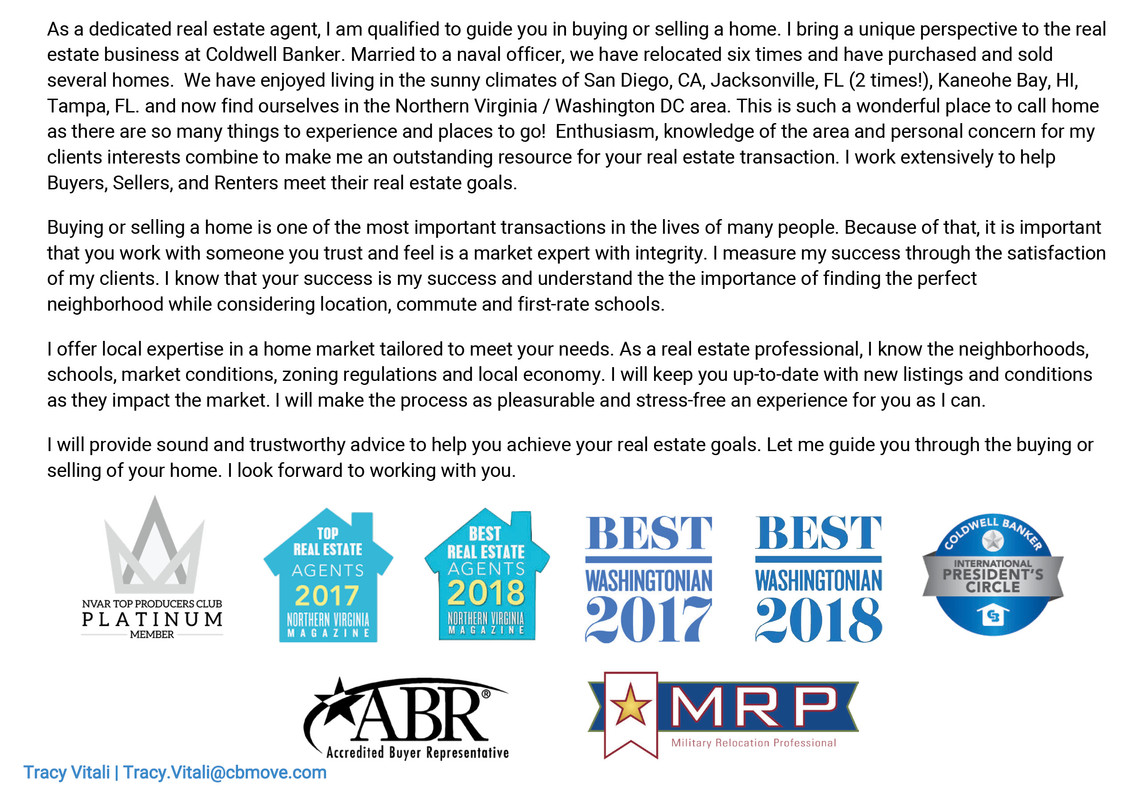 Affiliations
Member, National Association of Realtors®
Member, Northern Virginia Association of Realtors®
Member, Northeast Florida Association of Realtors®
Sold
Listings
ALEXANDRIA, VA
beds
baths
ALEXANDRIA, VA
beds
baths
ALEXANDRIA, VA
beds
baths
SPRINGFIELD, VA
beds
baths
"Tracy Vitali is the real deal. From the moment we met her, we knew she was the agent for us: genuine, optimistic, supportive and hard-working. Right before Thanksgiving, and during a pandemic, we found a home 1,000 miles away, near our daughter and her family. We had to close on the new house in 30 days, which was stressful enough, let alone having to sell the home we'd lived in for nearly 20 years. After we left, Tracy went to work. She signed us up with Coldwell Banker's RealVitalize program & found us an amazing contractor who took care of all the updates our home needed. She kept in touch regularly, texting and calling. She snapped photos of the furniture we left behind, posted them on various sites — and sold them for us! After all the house updates were complete, she hired a fabulous stager. Tracy oversaw everything. Buying & selling houses is tough under any circumstance. But having someone like Tracy with you every step of the way made it so much easier. She is the best! "
  -Malapino, Client
"We were out of town owners and sellers and Tracy and her team were phenomenal in making the process so professional, streamlined, and successful. From her personal charm and care to her team of contractors, she was responsive and insightful. Our home sold in one weekend at a great price and I give all the credit to Tracy -- thank you very much! "
  -Michelle and Michael, Client
"Tracy was the best buyer's agent we could have asked for. She worked closely with us from the beginning to determine our best preferences for a home, then continued to follow up with us, sending us listings, tips, and scheduling countless tours. She was even able to move us forward in the process while we were living away from the area, and was able to help us work through our changing desires and even price range. Despite the challenging market, we were finally able to find the perfect home for us, and Tracy wrote an offer that helped us to out-bid several others. This process could not have been better for us, and we highly recommend Tracy for those looking for a home!"
  -Nicole and Alex, Client
Coldwell Banker Realty
310 King St
Alexandria, VA
22314